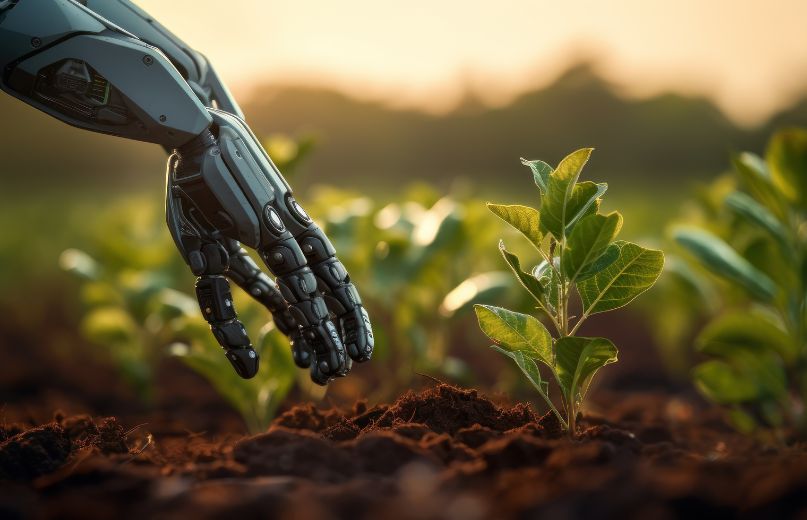 Revolutionizing Agriculture: Advanced Technologies and Precision Farming
In the ever-evolving world of agriculture, technology has become the driving force behind increased productivity, sustainability, and profitability. Advanced agriculture technologies and precision farming practices have transformed the way we grow our food, manage resources, and mitigate environmental impacts. In this blog, we'll explore how these innovations are revolutionizing the agriculture industry.
Smart Farming:

The Foundation of Precision Agriculture
Precision farming, also known as smart farming, is a holistic approach to agriculture that leverages cutting-edge technologies to optimize every aspect of the farming process. Key components of smart farming include:
Satellite and Drone Imaging:
High-resolution satellite and drone imagery enable farmers to monitor crop health, detect diseases, and assess field conditions from the sky. This data informs decision-making and helps in the precise application of resources.
The Internet of Things (IoT) technology allows farmers to gather real-time data on soil moisture, temperature, and other critical factors. This data is used to make data-driven decisions regarding irrigation and fertilization.
Advanced analytics tools process vast amounts of data to generate insights, helping farmers optimize planting schedules, pest control strategies, and resource allocation.
Transforming Agriculture with

Geospatial Technology
In the ever-evolving landscape of agriculture, technological advancements continue to play a pivotal role in revolutionizing traditional practices. One such game-changer is geospatial technology, which harnesses the power of satellite imagery, GPS, and mapping to enhance precision farming. This integration of geospatial technology in agriculture holds the potential to optimize resource utilization, improve crop yields, and promote sustainable practices.
Geospatial technology in agriculture is transforming the sector by empowering farmers with accurate, timely, and actionable information. As the world grapples with the challenges of feeding a growing population and addressing environmental concerns, the integration of geospatial technology emerges as a key solution.
Autonomous Vehicles

in Agriculture:
The agriculture industry has a long history of adapting to emerging technologies to increase efficiency and productivity. One of the latest technological revolutions in farming is the adoption of autonomous vehicles. These driverless machines are transforming the way we cultivate, manage, and harvest crops. In this blog, we'll explore the exciting world of autonomous vehicles in agriculture and how they are reshaping the future of farming.
Benefits of

Autonomous Farming
The adoption of autonomous vehicles in agriculture offers numerous advantages for farmers and the industry as a whole:
The Robotic Revolution in Farming:
Agriculture, a cornerstone of human civilization, has always been subject to innovation and technology. In recent years, a significant transformation has taken place in the agricultural sector with the introduction of robotic technology. These advanced machines are changing the way we grow, harvest, and manage crops. In this blog, we'll explore how robotic technology is revolutionizing agriculture and the numerous benefits it brings to the industry.
The Future of

Agriculture:
Gene Editing and Genetic Engineering:
Blockchain and Supply Chain Technology:
Artificial Intelligence and Machine Learning:
Aquaculture and Sustainable Seafood:
5G and Internet of Things (IoT):
Renewable Energy Integration:
Use Cases for Automation and Autonomy Integration
Conclusion
Advanced agriculture technologies and precision farming are reshaping the agricultural landscape. These innovations are essential for addressing the increasing global demand for food, environmental sustainability, and the challenges posed by climate change. As technology continues to evolve, farmers are better equipped than ever to produce more with less, while minimizing the impact on the planet. The future of agriculture is indeed a high-tech, precise, and sustainable one.